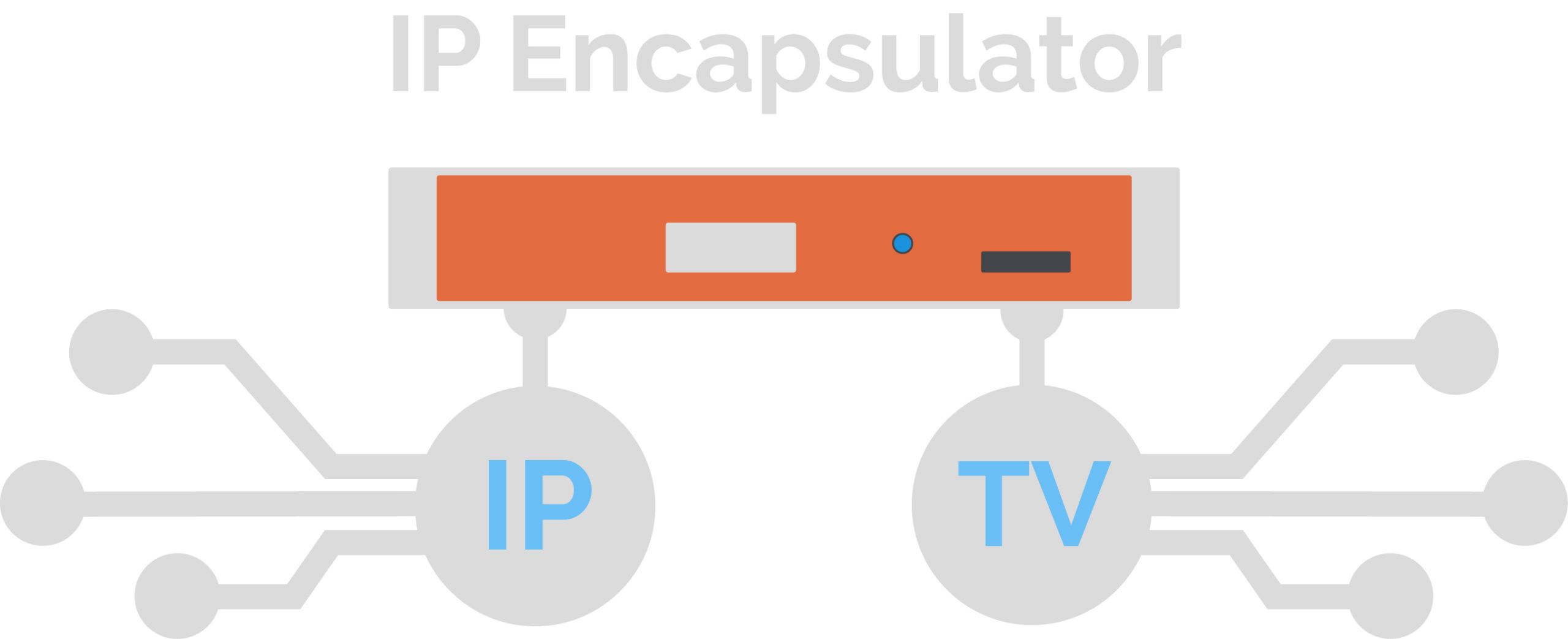 High performance, market-proven and reliable IP to TV gateway
IP Encapsulator (IPE) MD5600 is the gateway between IP and digital television networks (DVB, ASTC, ISDB etc.). It provides a reliable and cost-effective way to encapsulate IP packets into digital television transport stream packets (ts mpeg). It is a fundamental tool for providing various data services via TV networks.
The IPE receives IP packets from an Ethernet connection and encapsulates them into digital TV transport stream. Based on the user configurations, the IPE outputs desired transports stream via DVB-ASI interface or IP outputs (TS over IP). If the entire channel is used only for IP services (e.g. satellite internet), the output transport stream can be forwarded directly to a modulator. If data services are provided along with TV services, the output transport stream can be forwarded to a multiplexer. The IPE supports two-layer Quality of Service, allowing management of data channel bitrates, including setting minimal and maximal bitrates and priority.
Flexible configuration and management of one or multiple IPEs is possible with our web-based management solution BNMS. Besides securing redundancy setups comprised of multiple IPE clusters it allows administrators to allocate resources to multiple service providers, and service providers to directly manage those resources. For ease-of-use, the IPE front-panel includes LCD display with navigation keys.
IPE comes with Remote Monitoring Client (RMC) a multiplatform JAVA client providing administrators an easy way of controlling multiple IPE clusters.

Satellite Internet – forward link via Digital TV satellite links (DVB)
Hybrid-Net – combining forward link via TV with any IP return channel
Digital Cinema – distributing digital movies to cinemas
Microwave Multi-channel Distribution Systems (MMDS)
Distributing Radio Data System (RDS) data
IPTV streaming over satellite
Adaptive coding and modulation (ACM) for satellite links
Provides MPE encapsulation
Provides PSI/SI tables generation (PAT, PMT, SDT tables)
Supports bitrate of up to 150 Mbps
Supports unicast and multicast
Offers low latency (configurable) for encapsulation and QoS as well as low MPE overhead with MPE < 4%
Redundant cluster configurations
Direct reseller management of subscribers
Offers 64 000 IP routes per PID, with 8124 PIDs in total
Check out the rest of our products or discover our full solutions.